Porcelain Dental Veneers: 5 Things You Need to Be Aware of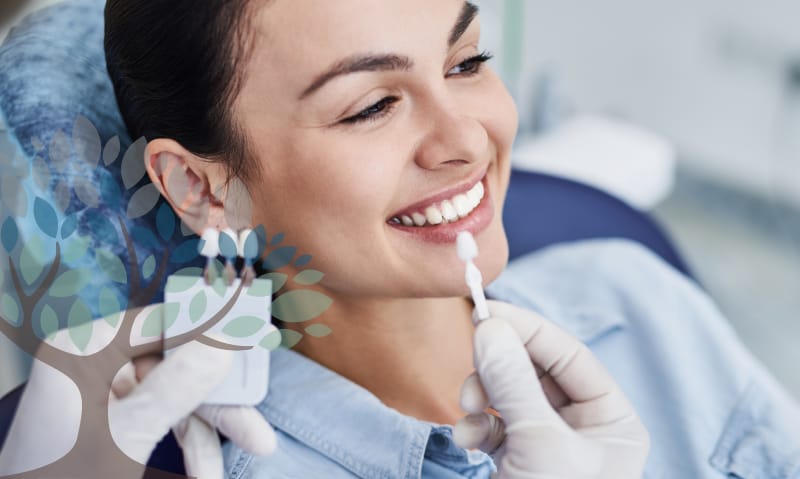 When our smile is not quite what we want it to be, it can negatively affect our overall well-being. Smiling boosts our immune system because we are more relaxed when we smile. Smiles are contagious too, so those you smile at are more likely to smile back. And this means a mood boost for everyone. But if we don't like our smiles, we're far less likely to flash those pearly whites.
If this sounds like you, a smile makeover might be in order, and porcelain dental veneers could be the solution to your smiling woes. However, before you get dental veneers, there are some things you should know.
What you should know before you get porcelain dental veneers
You might be wondering what porcelain veneers are. Porcelain dental veneers, also referred to as porcelain veneers, are thin coverings made of dental ceramic that attach directly to your front teeth to give them a more uniform and classically shaped look.
Veneers result in a bright, natural-looking smile and patients love them because they are highly resistant to discoloration from everyday activities, like drinking coffee. The porcelain in the veneers is also highly durable. With proper care at home and a visit to My Chico Dentist every six months for a dental cleaning and oral examination, your veneers can easily last up to 15 years or more.
Dental veneers will indeed improve the appearance of your teeth, leaving you with a brighter and more even smile. Veneers are a popular cosmetic dentistry solution and a great choice for patients who have:
Broken or chipped teeth.
Gaps between the teeth.
Uneven coloring.
Severe discoloration that can't be solved with professional tooth whitening.
But, like we said before, there are some things you should know before moving forward with porcelain veneers.
1. Porcelain dental veneers will not treat tooth decay, an overbite, or an underbite.
Porcelain veneers are intended to help those who suffer from broken or chipped teeth, gaps between the teeth, uneven coloring, or severe discoloration. They are not a good choice for patients with dental decay, active gum disease, weakened teeth, or for those who don't have enough existing enamel on the tooth surface. Your dentist will treat any gum disease before you receive veneers to ensure your teeth stay healthy and your porcelain dental veneers last.
2. Not everyone is a candidate for porcelain veneers.
The best candidates for porcelain dental veneers are those who would like to improve the color or contour of their teeth. So, if you have minor cosmetic imperfections or seriously stained teeth, porcelain veneers could be a great option for you. However, if you clench and grind your teeth, veneers may not be the solution for you as grinding your teeth can cause the veneers to crack or chip.
3. Porcelain dental veneers are permanent.
Dental veneers are fixed in place and, because they require a thin layer of your natural enamel to be removed, are considered a permanent dental solution. With proper care, you can anticipate that your veneers will last between 15 and 20 years, although they can last longer. Only a dentist can remove them, so it is essential to be prepared for lifelong care before moving forward with your porcelain dental veneers.
4. Veneers are considered a cosmetic dental treatment.
In most cases, getting porcelain dental veneers is considered an elective dental treatment. As such, they are not covered by most insurance plans. Still, your best Chico cosmetic dentist encourages you to check with your insurance company for specifics on whether—and how much of— the procedure will be covered.
5. Trust your cosmetic dentist on how white to go.
Many of you have seen the iconic episode of "Friends" where Ross gets his teeth whitened. Unfortunately, he goes a bit too white, creating a bright smile that he doesn't want to show to others. And when it comes to porcelain veneers, it is possible to go too white too.
Be sure to chat with your cosmetic dentist about your goals and objectives for your teeth. Dr. Robles and Dr. Yazdianpour will assist you in determining the appropriate whiteness for your teeth, leaving you with an appropriately white, bright, and beautiful smile.
My Chico Dentist is your go-to for porcelain veneers and a happy, healthy smile
If you live or work near Chico, California, and are considering porcelain veneers, now is the time to request an appointment with My Chico Dentist. In just one visit you'll know why patients view us as the best dental care around. During your visit with us, we'll do a dental cleaning and an oral examination, and we'll share our top tips for a healthy smile.
And if it is determined that you are a candidate for porcelain veneers, we'll take great care of you every step of the way. We're confident that our amazing team will provide you with customized care using state-of-the-art dental equipment. We can't wait to see your new smile. Request an appointment at My Chico Dentist today.