What Is the Difference Between a Prosthodontist and a Regular Dentist?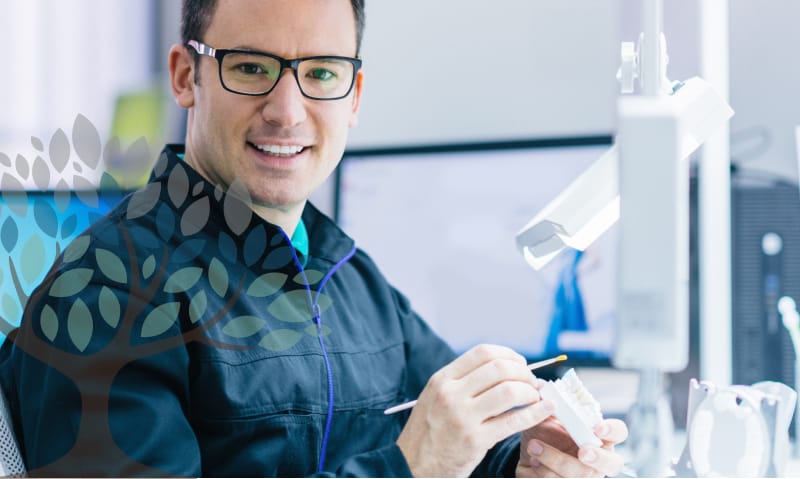 Pick the right professional to restore your smile.
You probably know there is some distinction between a prosthodontist and a dentist, but you may not be sure what those differences are when choosing one or the other. In general, prosthodontists specialize in tooth restoration and replacement, giving patients with missing teeth access to the highest-quality treatments and procedures.
However, there may be more differences between a prosthodontist and Dentist than you may realize. For starters, prosthodontists aren't simply dentists who have chosen to focus on a specific set of procedures. They are professionals with special education, training, and experience that allow them to provide their patients with the best in restorations.
Additional Specialized Education
Prosthodontics is a specialty recognized by the American Dental Association, which requires that prosthodontists complete the required education to receive the American Board of Prosthodontics certification. This education goes beyond what unspecialized dentists receive.
Like other dental specialists, a prosthodontist first completes a bachelor's degree, typically in biological sciences. From there, they go through four years of dental school in order to become a licensed DDS or DDM. They must also pass written and clinical exams with the American Dental Association to become licensed.
At this point, the prosthodontist track diverges from those of general and other specialized dentists and enters the residency phase.
Prosthodontic Residency Training
Every prosthodontist goes through a three-year residency training period, in which they work with experienced prosthodontists and other dentists to develop their skills and experience. This hands-on training requires them to treat real patients with real prosthodontic needs.
The residency training covers the entire range of treatments and procedures that prosthodontists offer. This includes tooth replacement options, like crowns and bridges; removable prosthodontics, like dentures, dental implants, and maxillofacial treatments; and more.
The training also serves to establish an awareness of prosthodontics in the broader context of medicine. Many individuals in need of prosthodontic care are dealing with other health concerns as well, and the training and real-life experience they receive can help prosthodontists provide more compassionate and understanding care.
Experience in Their Niche
A general dentist can provide you and your family with a wide range of dental treatments. However, when you need a full mouth reconstruction or other major prosthodontic work that will affect your quality of life for decades, you want to make sure you find the best prosthodontist near Chico, CA.
Prosthodontists have extensive experience in their specific line of work. This means they're capable of delivering better results than a general dentist who might only carry out prosthodontic work occasionally. This increased familiarity and experience can make all of the difference in your final results.
Having years of experience with many unique cases gives prosthodontists the insight they need to develop more effective treatment plans. They'll be able to carefully consider each treatment option and find the best plan for your individual needs.
When to See a Prosthodontist
You should seek out a prosthodontist whenever you need a tooth or multiple teeth replaced. They'll be able to provide you with the widest range of options and the best results for your situation, whether you need a tooth replacement after an extraction or other dental treatment or if you're already missing teeth.
The solutions a prosthodontist provides can help restore both the form and function of your teeth, helping you regain the beauty of your smile and the ability to eat and speak naturally. Individual or multiple tooth replacement options, like crowns, bridges, or dental implants, can make your smile whole again and prevent other teeth from shifting over time and requiring further intervention.
In addition, dentures and dental implants can both provide effective options for individuals missing most or all of their teeth. You can speak with a prosthodontist to find out which option may be right for you, as they have the knowledge, experience, and skills to offer more options and achieve better results.
Not only that, but a prosthodontic practice will most likely use specialized equipment to provide the best restorations and replacements. With 3D imaging and other technology, they can develop tooth replacements that are a perfect match for your smile and plan your treatment more accurately.
Are you in need of prosthodontic care?
If you are missing teeth or will require an extraction in the near future, a consultation with the best prosthodontist near Chico, CA, is well worth your time to find out what your restoration and replacement options may be. You can schedule your appointment at My Chico Dentist today to get started.